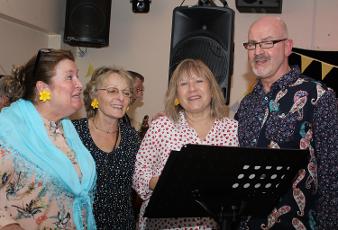 The Sandy Ukulele Singers
The Sandy Ukulele Group .
Our location::
The town of Sandy is located in Bedfordshire, and is
nine miles east of the County
town of Bedford
People ask do we have a dress code?
Yes... anything "bright and colourful"
for the gigs that we do. We believe as a group
wearing these "Bright Colours" does tend to
put over to our audience that we are having
fun. And that's what the Sandy Ukulele Group
is all about.........Having Fun !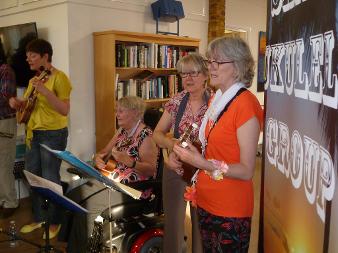 Are here to entertain you!
Introduction
Welcome! Thanks for coming by – we are always happy to get a visit from Ukulele fans and make new friends from around the world. Check out our practice nights, and current news
. The Sandy Ukulele Group was formed October 3rd 2011 by an existing member, Sylvia. Since then the group has grown steadily. We are now growing from strength to strength in numbers and have approx. 30 members in the group. We also have a large following on Facebook.
Performances See our "What's on" page
We have been working hard on our latest performance, and invite you to join us on this journey. Come and be entertained. Be sure to introduce yourselves afterwards.
Find Us on Facebook:
Sandy Ukulele Group.
We are always looking for new members. The Group has grown so fast and so quickly in the last few months and is fast approaching 30 members. We are having to limit the amount of new beginners. We try to start one or two new comers every month. The Group are not turning anybody away but trying to fit people into our teaching/learning programme.
If on a Friday night you would like to come along and have a listen to the group and even join in the singing.
"Please come along."
. Come and meet other ukulele players, make friends and share the Aloha Spirit.
Our goal and our passion has been to work hard, entertain and just have fun. We practice every Friday evening 7pm- 9pm at the Baptist Church Hall, Bedford Road, (at the roundabout) Sandy Bedfordshire.
More More Information
Email : Sandyukulelegroup1@ gmail.com (Without space after @)