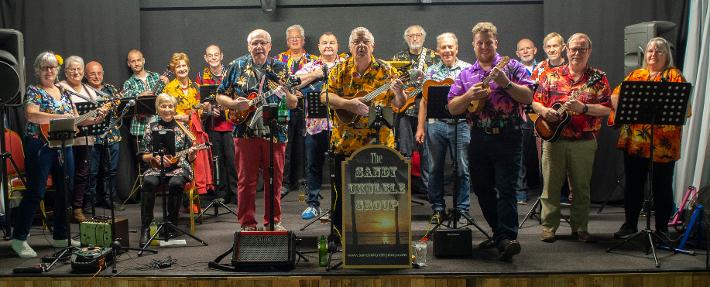 We are open for gig bookings for 2023
FORTHCOMING GIGS
The Sandy Ukulele Group rehearses at the Baptist Church Hall, Sandy, Bedfordshire
on a Friday 7.00pm to 9.00pm unless we have a Friday night gig
Please feel free to call in for a listen or maybe a "Sing Song" you do not have to be a player.
2023
Friday 16th June Colin Osborne Leprosy Mission Gig, Baptist Chapel Hall 7.00pm
Friday 30th June Hitchin Town Cider and Cheese Festival - Public gig
Saturday 8th July Girton Feast, Girton, Recreational ground. Girton Cambridge.
Sunday 16th July Todd in the Hole, Stevenage.
Saturday 11th November RLI Association at the RAFA Club Bedford
Thursday 23rd November Sandy Ladies Probus Club - Con Club , Sandy.
Tuesday 28th November St Neots Indoor Bowling Club
Saturday 2nd December March Hare Dunton - Public gig
Saturday 8th December Biggleswade Towm Bowls Club, Gleb Road . Biggleswade
Friday 22nd December "Rock the Shop" Tesco Sandy.. (To be confirmed)
Some dates and times to be added.
Ukulele festivals in easy reach of Sandy.
The Ukulele Society Of Gt Britain convention Sunday 2nd April 2023 at Digswell.
See their web site for details.
for gig enquiries
For gig bookings, please contact Clive on Sandyuke3@ gmail.com