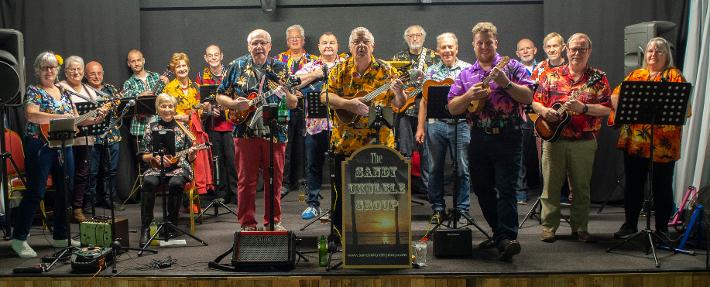 We are open for gig bookings for 2022
FORTHCOMING GIGS
The Sandy Ukulele Group return to practice at the Baptist Church Hall, Sandy Bedfordshire
On Friday 14th January 2022 at 7.00pm to 9.00pm
Please feel free to call in for a listen or maybe a "sing Song" you do not have to be a player.
2022
Saturday 12th November Rhodesian Light Infantry gig. RAFA Club Bedford 4.00pm
Saturday 26th November. St Neots Indoor Bowls Club Time TBA
Saturday 3rd December March Hare, Dunton, Nr Biggleswade 8.00pm
Friday 23rd December "Rock the Shop" Tesco, Sandy 6.00pm (To be confirmed)
2023
Thursday 2nd Feb. "World Ukulele Day" Now confirmed - Info to follow!
Satuday 22nd April 2023. "Friends and & Family Bash", Biggleswade Con, Club . It's Back !
Limited space. More info to Follow;
Friday 28th April 2023 (Reserved)
Friday 30th June 2023 Hitchin Town FC Cider and Cheese Festival
Ukulele festival's in easy reach of Sandy.
The Ukulele Society Of Gt Britain convention Sunday 2nd April 2023 at Digswell. See their web site for details.
for gig enquiries
For gig bookings, please contact Clive on "Sandyuke3@ gmail.com" (Do not leave a space between @gmail.com)