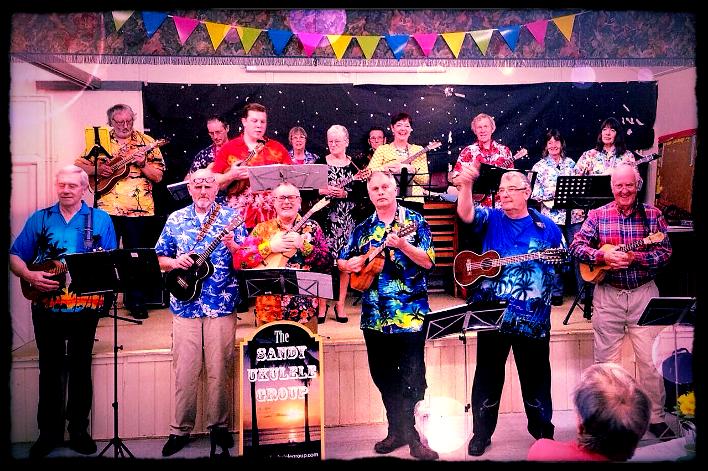 Colin Osborne Leprosy Mission Gig at the Sandy Baptist Church Friday 16th June. 2023
Dear Dee,

Please pass on my very grateful thanks to everyone involved in last night's Concert -- it was greatly appreciated, and more so on a hot night.
As people were leaving they were saying how much they had enjoyed it once again.
Overall the evening raised £393 for this year's project.
Thanks for your help also.
Kind regards,
Colin
Hitchin Town Football Club Cheese and Cider Festival Friday 1st July 2022
Hello Brian ( Sandy Ukulele Group)
I hope that I find you well.
Thank you and your group members for a wonderful performance at our festival. It's always a very enjoyable experience.
I have reproduced below a letter that I have sent to the Essex and Herts Air Ambulance and the Garden House Hospice that I thought I'd share with you.
Thank you very much for your suggestion and donation.
I have pencilled in a date for the 2023 Festival which is the 30th June/1st July. It would be great if we could see you all once again.
Kind regards
Alan
============================================
Dear sir/madam
We recently held a Cider and Cheese Festival at the Canary Club, Hitchin Town Football Club where we operated a token card system for attendees by which they were able to purchase their cider. The cards cost £10 each and if there were any unused tokens remaining on their cards when they left, a cash refund could be claimed. They were also invited to donate any unused tokens to charity instead of claiming the cash.
This year our kind customers donated £74. Added to this fine amount, The Sandy Ukulele Group kindly donated their fee for performing at the festival.
We decided to split the total between the Essex & Herts Air Ambulance and the Garden House Hospice.
Please find enclosed a cheque for £74.
Yours faithfully
Langford Ladies Group, Langford 9th June 2022
Thankyou very much for the wonderful concert you gave us at Langford Chapel on Thursday night. It was very much appreciated by all who came and all remarked what a good evening it was. I think everybody went home singing the songs and feeling very happy that they had come. For some it was the first time they had been out to such a gathering since covid. Thank you for making their first trip out so positive. I hope you will be able to grace us with you presence again. Please pass on this email to all in the group.

Till next time,
Joan Rutt.
Colin Osbourne Leprosy Mission Friday 6th May 2022
Letter received 8th May. Dear Sandy Ukulele Group
Thank you so very much to both yourself and all the members of the Sandy Ukulele Group for a wonderful Concert on Friday evening 6th May. I've had a number of people express just how much they enjoyed it. A fantastic sum of £525 was raised towards our project this year supporting the research laboratory at Anandaban Hospital in Napal.
Again gratful thanks Colin.
Message from Biggleswade Social Club Saturday 20th November 2021
''We have had lovely feedback from our members on your performance on Saturday evening
What a fun night, with great atmosphere & was lovely to see live music being played back on our stage again with something different, we look forward to seeing you again next year for a charity night, well done for a great entertaining night & we loved the wild shirts!! ''
Private 50th Wedding Anniversary Party
'The food was delicious, drink flowing and the band absolutely wonderful!!!'
'It couldn't have gone any better and the ukulele band was the icing on the cake'
'The food and music were fantastic'
'The band were excellent and great fun'
'Band! Absolutely brilliant, so much fun'
The food was delicious and the band were great'
Sandy Twinning
Just a quick message to say another huge thank you to you personally and all the ukulele musicians for another very successful and enjoyable evening yesterday. All the feedback has been really positive and it's great to have such an event at what is always the most depressing time of the year. Please pass on our sincerest thanks.
Best regards, Max Hill
25/1/20
Hello Sandy Ukulele Group
Thank you so very much for an amazing evening with you. You are fab. Keep up all the amazing work. Thank you from everyone at the concert at Baldock Methodist Church on 10 August 2019. Our very best wishes to you all. Janice
Graham Wilkes Private party 13/4/2019
Many many thanks for entertaining my guests at my 50th at the Swan in Bedford last night they all loved it, so much so that i made the decision to keep you playing for an extra half hour.
You were all brilliant
Graham.
Lynn Sexton
Potton Ladies Guild …. Lynn. The evening was fantastic thanks to your leadership & group of musicians. The ladies loved it, said it was the best Christmas party we have ever had.
On discussion later last night, we decided the summer won't work, could we therefor book you for the first Tuesday evening in December in 2020
Email received from Colin Osborne. Re Leprosy Mission Gig Friday 26th July
Dear Brian, "We had a truly wonderful evening last night with the Sandy Ukulele Group and it was great to have a full house and an appreciative audience. Our special guests were the High Sheriff of Bedfordshire, Meryl Dolling and her husband Michael and the Mayor and Mayoress of Sandy, Councillor Michael and Lynda Scott. As he left, Michael Dolling said that it was the best five pounds he had spent in a long time. The Concert was one of several special anniversary events the Sandy Branch of The Leprosy Mission is holding this year as it celebrates 50 years of fundraising in Sandy. The Branch is extremely grateful to the Ukulele Group and, as a result, a fantastic £555 was raised by the Concert. The Branch this year is attempting to raise £20,060 to fund five hospital beds with associated medical care at the leprosy hospital just outside Kathmandu in Nepal."
Best wishes
Colin
Hello Sandy Ukulele Group
Thank you so much for playing for us last night. It was very much appreciated by us and by our customers.
Thanks Janice (March Hare, Dunton) Saturday 1st December
British Legion , The Orange Tree, Baldock 16th Nov 2018
Thank you so very very much for another brilliant evening. If possible can we book you again for Friday 15 November 2019 Thank you again .. Janice
Hitchin Town Football Club. Cheese and Cider Festival 14t July 2018
I would just like to thank you and your excellent group of enthusiastic musicians for their great performance at the Hitchin Town Football Club Cider and Cheese Festival recently.
Everybody enjoyed the performance and if we hold the event again we will definitely ask you to come back. Alan
Dear Sandy Ukulele Group
Thank you so much for coming along to the Potton CIU Club on Saturday, and providing such an entertaining evening to raise money for Keech Hospice Care. Please can you convey our thanks to all your group members.
Despite it being a very busy day with the Royal wedding and football we still had a good number of people supporting the event, albeit some were late arriving!
The total raised from Ticket sales and Raffle was an amazing £249 .45.
Thank you once again.
Best Wishes Jane Saturday 19th May 2018
Hi Brian
Thank you so much for last night, I think it's fair to say we all enjoyed last night, great night.
Potton & District Social Club Saturday 19th May 2018 (Karen)
Sandy Ukulele Group email received Tues 8th reference Sunday 6th May 2018
Both our French guests from Malaunay and members of the Sandy twinning Association were delighted with Sunday evening's musical entertainment at Moggerhanger Village hall and a brilliant evening was had by all. The French song added a particularly appropriate flavour to the evening but it was great that there were so many songs all could join in regardless of nationality.
Our visitors from Normandy very much hope, as do members of the Association, that the
Sandy Ukulele group will accompany us to Malaunay next May and give another virtuouso performance on French soil.
Best regards, Max H Sandy Twinning Association
For the attention of Sandy Ukulele Group
Thank you so much for all of your support with Jai at the Taj Mahal in Sandy. I have heard that the charity curry nights was a great success, and that the diners loved listening to you play.
I know that you made a very kind donation on the evening and I would really like to thank you formerly for you generosity and wonderful support.
Keech Charity Sarah.
Great to meet you all yesterday.
On behalf of everyone at Ickwell Cricket Club can I take this opportunity to thank Sandy Ukulele Group for the fantastic performance at our refurbishment re-opening party on Saturday.We thoroughly enjoyed having you at the club and loved every minute of your set, which had everyone singing along. Great choice of songs, great delivery - great fun!
Please come back and see us again soon!!
Cheers
Ian
Ickwell Cricket Club Saturday 13 Jan 2018
We should like to express our gratitude to yourself for your efforts and the group for attending our celebrations on Saturday last. We enjoyed ourselves enormously and we have had so many good reports from our guests. One of our number, a former RAF musician and school music teacher, admitting it was not his style of music , was delighted to see the way the group seemed to have so much fun in what they were doing. He made the point that, unlike some, the music was not overpowering and guests could make conversation as normal.
Special thanks to Godfrey and Andrew for their clever musical interlude, it all made for a perfect evening.
Thanks to all..
Chris and Mary. Golden wedding Sat 25th November 2017
Sandy Ukulele Group Monday 11th December 2017
On behalf of our club I am writing to thank you from the bottom of our hearts for coming, turning out for us regardless of the icy conditions on Monday evening. I am sure you must bring as much joy and happiness to everyone that hears you play as you certainly did to us. A lot of that pleasure is the playing/rapport between you all and the energy/enthusiasm you put into it Our sincerest thanks.
Ian Williamson .Ivel Stroke Club
n Williamson
Dear Brian and the UKULELE group
Thank you so much for a fantastic evening. Everyone has come back and said to us what a brilliant night they all had. For me it was also a first for a ukulele and its music, as it was for everyone else to. You were fab to say the least. Words cannot express what a most exciting musical extravaganza. FAb Fab FAB.
It was also lovely to talk with some of the group. We didn't get around to speaking with everyone but i did speak with Sylvia. I have myself a real love and passion for music and singing so thank you to for letting me join in with you. It was on my part a real pleasure and honour to sing with you all. Thank you.
Thank you once again
From everyone at The Royal British Legion Baldock Branch, and all the people from the Poppy Appeal dinner.
janice xx
Saturday 18th November 2017 Held at The Orange Tree, Baldock
Hi Brian,
I was just about to write to you! Thank you so much to you and all the group for a wonderful evening. It was great to see so many people enjoying themselves. We made a fantastic £240, so very grateful for church funds.
We will certainly get in touch again another time if you would like to come and do another concert.
St. Swithun's Church Sandy, Friday 22nd September 2017
"Thank you all for coming to the March Hare, Dunton, on a hot July night and playing for us. Everyone enjoyed the 'rock and roll'! Your enthusiasm, choice of songs was much appreciated in this fun filled evening. We are all looking forward to the Sandy Ukulele Band entertaining us in December 2017"

Janice and John. March Hare. Dunton 8th July 2017
Hi Brian and friends. Thank you for a very enjoyable evening, everyone enjoyed the music and songs and a lot of people are disappointed they missed you. Please forward me some available dates . Here are some photos and videos from Saturday night thank you again, Chris and Jan
Gardners Arms Public House, Biggleswade. Saturday 5th August 2017
Just to say thank you so much to the group for Friday night at the CIU Club in Potton to entertain us!
It was so lovely to look around and see people enjoying themselves.The event raised an amazing £489 .56 for Marie Curie. So you can imagine we are really pleased.
Please pass on our thanks to the rest of the group.
Kindest Regards Jane (Marie Curie) 14/10/2016
I am emailing you to let you know that the performance of The Sandy Ukulele Group, on Sunday, was great!
Your playing and singing all fitted in so well with the guests and with the tea itself. Everyone, especially me, had a really great time!
Lets hope we do it again, next year. Please pass on our thanks to all the members of the group kind Regards, Mick Andrews
On behalf of the Wrestlingworth Goodwill Fund Committee. (Sunday 23rd April)
Hi, Sandy Ukulele Group
Once again John and I would like to thank you for your entertaining renditions of popular rock and roll! songs last Saturday. It was fantastic
looking around the pub at people, the ukulele players and audience, enjoying themselves. It was an enjoyable social evening
March Hare. Dunton, Biggleswade Saturday 10th December 2016
On behalf of us all I am writing to thank you and all the players for such an enjoyable evening last Monday. Your group really lifted the spirits of everyone, which made it one of the most enjoyable social evenings we have during the year.
We were also very pleased to know that the donation we were very happy to make as a token appreciation of your efforts found a "good home" with Canine Partners.
I would also like to take this opportunity of confirming our date as the 11th December 2017.
With very best wishes to you all . Ian
The Ivel Stroke Club. (Received 23rd September 2016)
Hi Brian, What a great evening, well done all of you. I assist with the folk in the bus, getting them to the venue and home, and there was a lot of talk on the way home as to how much they enjoyed the evening. Then for me to be given the cheque for Canine Partners was truly wonderful. Please have a look at the web to see just what these dogs do for folk. I have one with me in training called Sandy. I need to have your home address so that I can send you and the group a letter of thanks, so please email me your address. A huge thanks to all the group
Ray... Puppy Parent for Canine Partners. The Ivel Stroke group, Sandy. 19 Sept 2016
The residents of North Gate Court retirement development were rocking and rolling in their chairs on Friday evening as we were entertained by Sandy Ukulele group who treated us to an evening of music and song that brought back some wonderful memories. Many thanks we look forward to a return visit in the not to distant future.
Mike June 2016
Hi folks. What a great night we had at Northgate Court on Friday. It was enjoyed by everyone. What talented & happy group you all are. Looking forward to seeing & hearing you all again soon

Irene June 2016
"John and I would like to thank you for your entertaining renditions of popular rock and roll! It was very much appreciated by your audience and the
staff (John and I)! Please feel free to use this comment on your website and the photos and video John gave you.
We are having a website constructed for the March Hare and possibly a facebook page. Would it be possible to include a couple of these pictures
and video on the new website and facebook?
If you would like to come back and play again at our pub you may wish to consider one of the following dates"
John and Janice, March Hare, Dunton. 14th May
Hello Brian, Please pass on our thanks to the rest of the band. Everyone that I spoke to had had a wonderful afternoon and once we get ourselves and next years calendar sorted out we will be booking you again. So once again many thanks and have a great musical summer.
Alison R. St. Jame's Church Little Paxton Sunday 17th April
"Hello Sandy Ukulele group Thanks to all the Ukulele players for giving us such a fun filled evening. We are really looking forward to your concert next year. The three of us have already told the Vicar she missed a good time. I believe I read that you are playing in St Neots in July. If you want to check out the Church let me know so that I can open it up for you. Once again many thanks for inviting us to your practise night" Regards Alison R (St James Church )
"Dear Sandy Ukulele Group On behalf of the Ivel Stroke Club I am writing to thank You all for coming to play to us on Monday evening. I think you could judge by the reaction from all of us everyone so enjoyed your performance and in due course would like to take you up on your offer of coming again. I would have liked to send a card/letter but in the world we live in hope this email will do. Apart from that I don't have an address for you !! With our thanks again and very best wishes to you all" Ian Ivel Stroke Club
"I think it is us who must thank you all for coming making a truly happy evening. I was even approached yesterday evening asking if we can book you again for next year! Have a (not too) Merry Christmas and a Happy New Year" Elizabeth (Gamlingay WI)
"Thank you Brian, we really enjoyed the performance you all gave. I think you guys were excellent. It was a good laugh. We wish you all a Merry Christmas and a happy new year. Keep up the good work
- Jai" Taj Mahal Restaurant Dec 21 (Sandy)
"Many thanks for your excellent performance last night. Your talent and humour were much appreciated by all at Millfield Park"
Huntingdon. April 2016.
"Dear Brian, all the members of The Evergreen Club thank you and the members of your group for coming along to our Birthday celebration last Friday and providing such brilliant entertainment.
You chose a great sing a long programme, perfect for our Club, and it was lovely to hear some of our favourites again.
You are such a friendly entertaining group, we wish you all the best for the future and please let everyone who came along know how much we appreciated them. Best wishes"

The Evergreen Club. Great Gransden. March 2016